February 2, 2011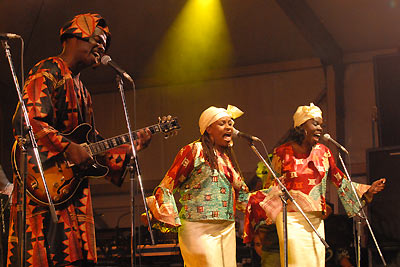 Toby Foyeh & Orchestra Africa will bring a diverse blend of African music to Coastal Carolina University's Recital Hall in the Thomas W. and Robin W. Edwards College of Humanities and Fine Arts for a free concert at 7 p.m. Thursday, Feb. 10.The performance will feature the band's unique Afrijam genre, a fusion of traditional Nigerian Yoruba music, African Highlife and Afrobeat with more modern jazz, rock, Latin and pop. Toby Foyeh & Orchestra Africa tour worldwide with its assortment of traditional African instruments, including the Gangan and Bata drums, as well as the flute, guitars, keyboards, synthesizers, percussion instruments and a chorus of female singer-dancers dressed in African costumes.
Toby Foyeh, who sings, composes, produces and arranges the band's music, was born and raised in Nigeria. The award-winning, self-taught musician studied at Berklee College of Music in Boston and Howard University in Washington, D.C., where he also earned a degree in film directing. For additional information, visit www.tobyfoyeh.com.
The concert, presented by the Office of Multicultural Student Services, is free and open to the public, but tickets are required. Tickets may be picked up at the Wheelwright Box Office 9 a.m. to 4:30 p.m. Monday through Friday.
For more information, call the Wheelwright Box Office at 843-349-2502. The Thomas W. and Robin W. Edwards College of Humanities and Fine Arts is located at 113 Chanticleer Drive West in Conway. For more information on CCU's cultural season, visit www.coastal.edu/culturalarts.
Learn More at Coastal Edu.