By Mark Jenkins – January 21, 2000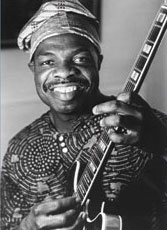 Singer-guitarist Toby Foyeh has scored two hit singles in his native Nigeria, but he also has a Washington connection: A former Howard University music student, Foyeh brings his 10-piece ensemble, Orchestra Africa, to town regularly. The group's free concert this Saturday, sponsored by the National Museum of African Art, is its third Washington performance in less than a year. In addition, the band's second Nigerian album, "Jalolo," was recently released in the U.S. by a Washington-area label.
Read More at the Washington Post.